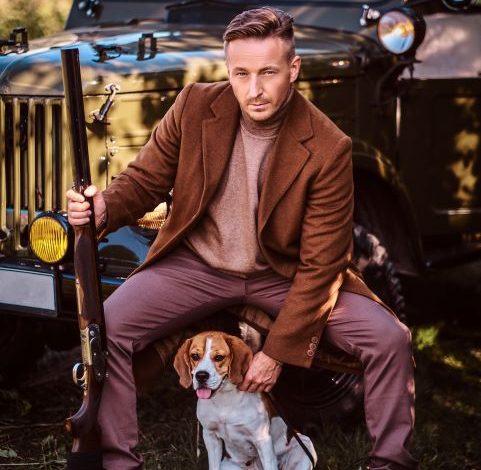 Hunting equipment is crucial because sometimes you simply won't be able to hunt hunter without skis in winter or boats in autumn and spring for duck hunting. It's also worth noting that you'll need to move through hunting fields while tracking game as well as stay in one place, hide in blinds or behind cover.
When I started hunting in winter, I thought I would arrive at my chosen hunting fields and simply cross the field to look for animal tracks. As a result, I arrived by car on the outskirts of the village, and the field was covered with snow with a depth of 50 cm.
The equipment I suggest is not strictly regulated, and I don't intend to promote any specific company, especially not expensive brands.
Backpack.
When you're hunting, especially if you're moving away from your transportation or decide to travel using public transport, a backpack is necessary. The backpack should contain the necessary set of:
Thermos (water) with breakfast

Five meters of thin rope or paracord. They are very useful when you need to make a sled from skis or hang a hare over sand.

Spare clothes, especially if you're hunting in winter and need insulation.

Reflective vest, useful if you're suddenly hunting an hour before dawn or vice versa in the evening.

Nylon bags

Fire-starting tools

Flashlight
The backpack should fit comfortably, and I prefer a backpack with a waist belt as it relieves the shoulders. Regarding the waist belt, I want to mention that it doesn't hinder much, and I can hang a knife on it. The number of compartments, whether there's external access to them, whether there's a cartridge belt on the backpack itself – all of this is individual.
Knife and small sharpening rod.
You can buy a nice hunting knife made of Damascus steel or Elmax powder, but to be honest, if you're not going to be cutting up large game like deer and wild boar in parties, then you don't need them. For skinning small game, cutting it up, or slicing cucumbers and sausages for sandwiches, regular Opinel knives will do the job. The key is that they're made of stainless steel with a small blade and are easy to sharpen.
I use the Mora Companion MG, made of stainless steel.
Overall, the question of the knife is a matter of personal taste and character, as there's a whole range of complex features around this tool that are important and can be learned.
Hunting clothing and more – www.huntingshopfavia.com.
Some people think a military style is necessary for hunting – NO! In my opinion, clothing shouldn't restrict movement but shouldn't hinder the quick raising of the gun either. The clothes shouldn't be noisy. I have a slide suit and had a couple of camouflage jackets, but I gave all that up in favor of hiking clothes in a single tone, not multicolored, specifically olive color. It's in such simple and discreet clothing that I don't feel like a soldier from special forces on a mission; I think you'll find it more comfortable too.
And now, more specifically:
Jacket and pants (suits).
I don't use a cartridge belt for hunting, but I carry cartridges in my pocket; this allows you to warm them up, for example, if you use cartridges with a container in winter, and overall, it's more convenient for me. The jacket should have large pockets that close with a zipper or a buttoned flap; they should be easily accessible. Also, try to choose a jacket with a membrane. It's better to have an inner pocket to store documents and a pen, where you can put your permit.
Regarding insulation, see for yourself here, as there may be severe cold in your region during winter. For winter hunting, a jacket with moderate insulation over a sweater and thermal underwear is sufficient. Initially, I used to wear a regular long puffy jacket, bought at a market once.
I also want to put canvas jackets and hunting clothing in a separate category; they are made of natural felt material. I've never worn them, so I won't say much about them. But the reviews are very good; maybe someone in the comments will describe their experience.
It's worth noting that during spring in the forest, you might encounter ticks, mosquitoes, and other insects. Therefore, your jacket or suit should have cuffs on the sleeves and legs or elastic bands that fit snugly around your arms and legs. Some hunting suits or jackets come with mosquito netting.
(Note: This translation might not be 100% accurate due to linguistic nuances and cultural differences. If you have any specific phrases or terms you'd like me to clarify or adjust, please let me know.)
During winter, I use the Protest jacket, and when it gets warmer, I switch to a lightweight one from Patagonia. Both jackets have hoods, but I almost never use them because I need to listen to what's happening around me.
As for pants, it's better for them to be made of natural fabrics to prevent sweating and moisture.I prefer denim, the same thing in winter but with fleece lining.I don't have suspenders on my pants.I use a canvas belt without holes, fastened with a toothed mechanism that I can't properly explain. This allows you to adjust it to any length.
Currently, I wear Columbia pants.
Regarding inexpensive suits marketed as "for hunting," most of the time they are uncomfortably clunky plastic-lined options.
Sweaters, sweatshirts, and T-shirts.
It's better to keep a woolen sweater with synthetic material and a fleece sweatshirt in your arsenal. Hoods are not necessary. It's preferable to have a high collar.
You can buy hats, socks, etc. at any Auchan or Decathlon. Don't go for completely synthetic socks, they make your feet sweat. By the way, Decathlon doesn't sell bad reversible hats; one side is bright orange, which can be useful for low-light hunting.

Thermal underwear, I bought it at Sportmaster, and the price there was quite reasonable for a set. The bottoms and the long-sleeved top are half cotton, half synthetic. I also bought wool thermal underwear for winter. It has a great effect of retaining heat and dissipating moisture; I also got it from Sportmaster.

Buff (or keffiyeh). During winter, they are very useful, protecting your face from the cold. Ten-pointer.

Boots and shoes.
Footwear should dry quickly and be suitable for outdoor drying or by a fire (but not EVA). In winter, when hunting, avoid heavy insulated boots. Your feet will get tired and sweat, especially if you're skiing. I use regular leather boots with moderate bar lacing.
Boots with thick insulation, heavy and with an inner foil felt lining, might be suitable for those who will be setting up stands or blinds.
A tip: while hunting in your own car, take off your boots from the trunk and place them near the heater so they warm up your feet. Then it'll be more pleasant to change into warm footwear.
During spring and autumn, boots are a clear favorite. In the morning dew in the field or in swamps and rivers, they will protect your feet from water. Rubber is good and durable, but they are heavy; nowadays, they are almost replaced by EVA boots. From lesser-known brands, I use "Nordman."
Also, if you're hunting ducks from cover or a blind and don't have a boat, chest waders will definitely be useful.
Camouflage coats and raincoats
I've never had a camouflage coat and have never used one, and I probably never will. Perhaps someone with experience will correct me in the comments, if there's any real sense to them.
I never take a raincoat, even if it's forecasted to rain, as I don't understand how to hunt with it. It will interfere with your weapon.
I've never used it, but according to the stories of the guys who hunt from stands or blinds, sometimes their knees get cold, and then a blanket is very useful. Personally, I never take blankets.
Skis for winter hunting and a few words about snowshoes.
Now there are skis made of wood and wood/plastic. For beginners,it's better to choose inexpensive multilayered wooden skis.
I want to immediately say that unfortunately,no skis will allow you to walk on crusts without falling at all, but they are much more efficient than snowshoes.
Many modern factory skis have holes for finger ropes, so you can use the skis as sleds,for example,if you're dragging something,place it on the skis or climb a mountain.
To prevent skis from slipping when climbing a hill, use climbing skins.
Natural skins are expensive; for a hobbyist hunter, it's probably more practical to use synthetic skins.
It's a small strip, not covering the entire length and width of the skis.
I use wooden skis without skins because the places where I hunt don't have high hills.
(Note: This translation might not be 100% accurate due to linguistic nuances and cultural differences.
If you have any specific phrases or terms you'd like me to clarify or adjust, please let me know.)
The skis are waxed, this is protection against moisture, we are talking, of course, about a sliding surface. I have never skied, but I use lubricant for the second season.
Flaxseed oil, beeswax, pine rosin, and turpentine. I dissolve the rosin in turpentine and mix it with wax and flaxseed oil in a water bath. I let it cool down.
It turns out to be paste-like, slightly hard, which I use to lubricate dry, clean skis.I also use it for preservation. It smells, but not much, and the smell disappears quickly.
Wooden / plastic skis do not need to be waxed, but they are heavier and slide a lot.
When you arrive at the hunting spot, leave the skis in the cold for a while.
When you put them back in the car, shake off all the snow from them and wipe them.
I won't say anything about snowmobiles since I haven't used them due to their cost.
Inflatable boat.
I don't have my own boat, I borrowed the boat a few times from a friend, and it was a three-person one with a transom board and aluminum motor mounts, also lots of plastic and aluminum fittings. Heavy PVC, I struggled to carry it. From this practice, I learned that I need a single or double PVC boat, with rubber valves and fittings.
In fact, you will need a boat to take the hunted bird into the water or to reach the reeds where your hide will be.
Gun case.
They say that according to statistics, most violations by hunters are related to uncovered firearms.
This means that according to the law, when you are not on the hunting grounds, your weapon must be covered and without a cartridge in the chamber.
And during the spring hunt, when hunting is prohibited in most regions, then you should not move on the hunting grounds with an uncovered weapon.
Therefore, it's best to have a soft case that you can wrap up and put in your backpack.I have also seen covers made of thin fabric with elastics that can fit in the palm of your hand.
Miscellaneous items.
A flashlight like Duracell, waterproof with an aluminum body, is not expensive.

Camouflage net for hiding.

Duck decoys, etc.

Stuffed duck.

Shooting targets.

Inflatable cushion.

Another knife (just in case)

Gas burner for roasting game birds after plucking.

Mobile phone and power bank.
Cartridge pouch.
Better pockets for carrying cartridges, so far I haven't found anything for myself.I rarely use separate bags that can be hung on a belt or simply placed next to me in the hide.
If, nevertheless, you want to buy this wonderful accessory – a cartridge pouch, then I think you should choose it based on the weight and the presence of a valve for closing the compartments, at least minimal water protection, it's also better if it is divided into sections.
In one of the hunting stores in St. Petersburg, they offered me to buy a vest with compartments for cartridges, I think it's a silly thing. If anyone has used one, please write how it is?
Vehicle
If you think you need an all-wheel-drive SUV for amateur hunting, it's not necessary.You can reach most hunting spots in the region using public transport.It's better to use ground transportation since there might be problems with weapons on the subway.
I reach the hunting grounds in my Hyundai Solaris, I think it's needless to say that it's not suitable for off-road.I have never been late anywhere.I dream of a 4×4 Subaru.
I have everything in terms of equipment.I hope my initial experience will be helpful to someone.